BEHAVIORAL HEALTH FOCUSED TRAININGS
ONTRACK's behavioral health training provides therapists, juvenile justice professionals, and other clinicians with information on how to develop and maintain a collaborative, problem-solving approach when working with persons with substance use and mental health disorders. Health Care Reform has ushered in an era of integration that is changing the service delivery landscape for substance use, mental health, and primary healthcare providers by focusing on the behavior change required to prevent and manage chronic diseases.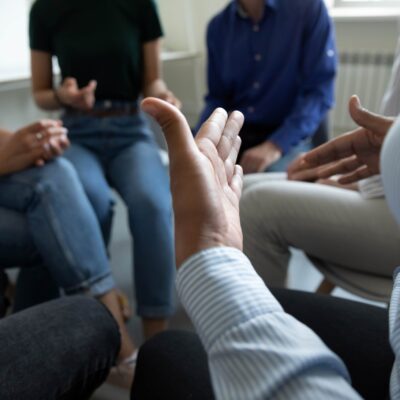 Most ONTRACK trainings in this section contain concrete and specific clinical interventions that can be utilized immediately in daily practice. There is a selection of courses that focus primarily on improving clinical skills. Many courses are specialized and tailored to specific populations including African American men and boys, co-occurring disorders, criminal justice and gang involved, unhoused populations, Latino men and boys, LGBTQ+ trauma survivors, veterans, women, and youth.
ONTRACK's common training objectives for behavioral health related trainings include:
SAMPLING OF BEHAVIORAL HEALTH-RELATED TRAINING TITLES
Anger Management Strategies When Working with Diverse Behavioral Health Consumers
Cognitive Behavior Therapy: Fostering Improved Collaboration for Client Success
Co-Occurring Disorders
Improving Group Facilitation Skills Using Cognitive Behavioral Therapy
Motivational Interviewing: Inspiring Change & Instilling Hope
Advanced Motivational Interviewing: The Experiential (Previous MI experience required)
SBIRT: Screening, Brief Intervention, Referral to Treatment
Treat Them Well: Health Care Innovations, Skills, Techniques, and Strategies (Includes MI, SBIRT, Appreciative Inquiry, and SMART goals)
Treatment Strategies from A – Z
Against the Odds: Improving AOD Treatment and Recovery Outcomes for Formerly Incarcerated Women
Arrested Development: New Directions for Treating Incarcerated Women Changing Systems/Changing Lives
Kids at the Crossroads: Working Effectively with Juvenile Justice-Involved Youth
No Wrong Door: Working Effectively with Ex-Offenders, Mandated Clients, Youthful and Gang-Affiliated Substance Abusers
Prodigal Daughters: Complex Issues & Challenges for Providers Treating CJ Women
Realignment, Re-Entry & Recovery: Cultural Considerations and Practical Applications Using COGNITIVE BEHAVIORAL THERAPY
The Long Way Home: Improving Successful Outcomes for Criminal Justice-Involved Women: A Comprehensive Training on Women's Addiction and Recovery
Tough Cases: Working Effectively with Ex-Offenders, Court-Mandated and Treatment-Resistant Clients
Racial Disparities and Implicit Bias in the Justice System
Core Competencies of Women's AOD Treatment (Trauma Informed, Gender Responsive)
Cultural Aspects of Chemical Dependency
One Size DOES NOT Fit All: Working with Dually Diagnosed and Culturally Diverse Clients (Treating Clients Experiencing Combined Substance Abuse and Mental Illness)
Improving Retention and Outcomes for High-Risk Youth Using Strengths-Based Strategies
In Our Clients' Footsteps (Women/Youth/Unhoused/Mental Health and Trauma)
SUD Treatment Considerations for Boys and Men of Color
Substance Use Problems among Older Adults
Treat Them Well: One Person, One Team, One Plan for Recovery
Family-Based Treatment for Justice-Involved Youth
Addicted to Love and Relationships: Empowering Women to Make Healthy Choices that Support Recovery (Can be adapted for Girls)
A Shero's Journey: Improving Alcohol and Other Drug (AOD) Treatment & Recovery Outcomes for Women *(Can be tailored for Child Welfare, or Criminal Justice-Involved Women and Girls)
Essential Elements: Gender-Responsive, Trauma-Informed Services
See Criminal Justice Involved
See Substance Use Disorders
The Warrior's Peril: Developing Resiliency in Veterans through Culturally Competent Service Delivery
Where's My Mommy? Addiction, Incarceration and the Children Left Behind
Diamonds in the Rough: Addressing the Multi-faceted Needs of High-Risk Young Women and Girls (Trauma Informed Services)
See Criminal Justice-Involved
Youth Gang Involvement and Its Impact on the Whole Family
Wraparound Services and Credible Messengers
MENTAL HEALTH FIRST AID TRAININGS
ONTRACK offers Mental Health First Aid and Youth Mental Health First Aid, the newest evidence-based strategy from the National Council on Behavioral Health to provide you with the skills to identify, understand, and respond to signs of mental illnesses and substance use disorders.
Objectives for Mental Health First-Aid training:
SAMPLING OF MENTAL HEALTH FIRST AID TRAINING TITLES
PROBLEM GAMBLING TRAININGS
With the steady expansion of legalized forms of gambling throughout the country, many state agencies and service providers have begun to see the negative consequences of problem gambling impacting clients in their service systems, particularly in behavioral health, and older adult protection agencies. ONTRACK works with providers to address the many issues related to problem gambling among several different ethnic and cultural populations including youth, women, older adults, and members of the faith, treatment, and recovery communities.
Common Objectives for Problem Gambling training include:
SAMPLING OF PROBLEM GAMBLING TRAINING TITLES
TRAUMA-INFORMED SERVICES TRAININGS
Unresolved trauma can be serious, with ongoing life complications often leading people to engage in several unhealthy behaviors including violence and self-harm as well as self-medicating with alcohol, illegal drugs, and abusing prescription drugs. ONTRACK's trauma-informed services training addresses the different types of traumas and a broad range of populations and issues to institute change and reduce trauma and the negative impacts of trauma especially in hard-hit communities.
Objectives for various ONTRACK trauma-informed services trainings include:
Several Trauma-Informed trainings are geared to specific populations. Some of the objectives corresponding to various population-specific trainings include:
Objectives for Change Management and Adaptive Leadership in Comprehensive, Continuous, Integrated Systems of Care:
SAMPLING OF TRAUMA-INFORMED SERVICES TRAINING TITLES
FAITH COMMUNITY TRAININGS
ONTRACK's Faith Community trainings are designed to support organizations, especially those that have received grant funding to accomplish their goals and improve their infrastructure to help them expand their anti-poverty efforts and other services.
Common Faith Community training objectives include learning:
SAMPLING OF FAITH COMMUNITY TRAINING TITLES
Contact Us
Interested in discovering how The Philani Institute can assist your organization in enhancing diversity, advancing skills, and fostering inclusivity? We're here to support you. Our training and services are fully adaptable to align with your organization's requirements.
Anita Ross
Project Manager